بسم الله الرحمن الرحيم | السلام عليكم و رحمة الله و بركاته
Hai, saya dah habis sekolah. Hai, saya rindu sekolah. Hai, saya rindu
#5Science1family
. Hai hai bye bye. Ya Allah, Tuhan saja yang tahu betapa rindunya dekat kawan-kawan :( Tengok gambar semua balik rasa sebak tahu tak. 2 tahun bersama
#5Science1Family
banyak sangat kenangan.
Sebelum berpisah tahun lepas, sempat jugalah buat majlis. Kebanyakan persiapan kitorang DIY dan guna barang-barang sendiri. Jimat duit haha maklumlah budak sekolah mana ada duit kan. Alhamdulillah, semuanya berjalan lancar dan kami dapat pujian dari cikgu-cikgu. Majlis yang hebat, katanya... So, sehari sebelum majlis, kami stay sampai petang siapkan semua benda. The goodies, the class, the decorations and others. Here the pictures, enjoy !
The invitation cards.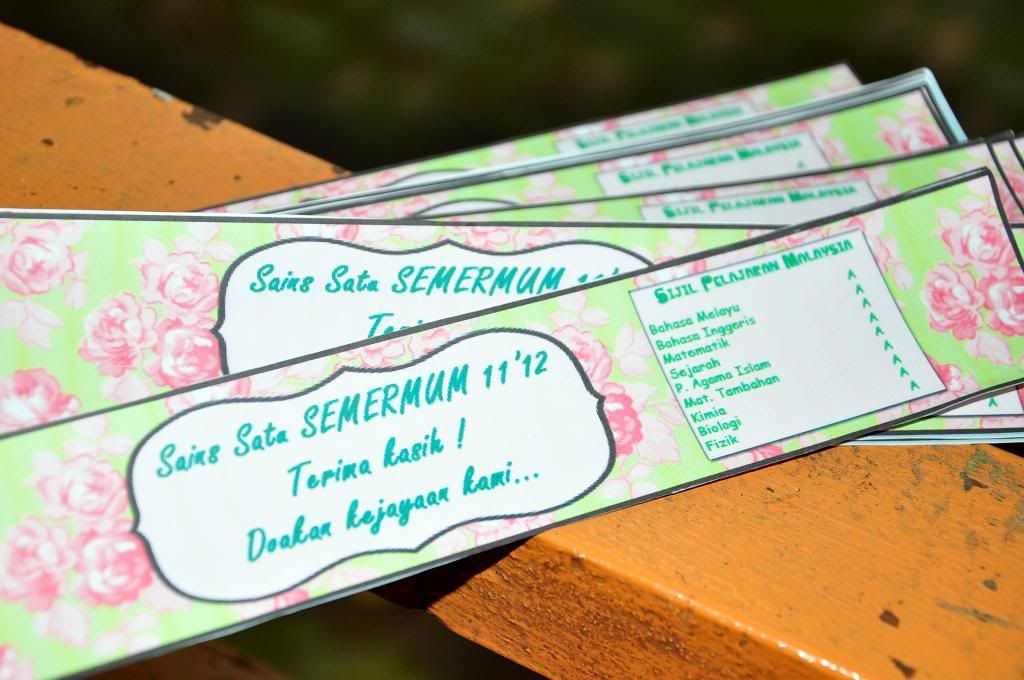 The labels for mineral bottles.
Siapkan surah Yassin untuk goodies.
Dalam stor. Nasiblah kelas kami ada stor kecil kat belakang, senang nak simpan barang. Dan yang paling awesome, dalam stor ni ada speaker sekolah yang tak digunakan. So, faham-fahamlah apa kami buat dengan speaker tu hahaha. Let's party !
Goodies dalam pembikinan.
Susunan meja.
Jeng jeng jeng haha.
Farah
Goodies for the teachers.
Cuba teka Eby tunjuk apa ! Hahaha sila lihat gambar bawah.
Ini dia ! Hahaha.
Okay, kerja dah siap, so let's have some fun !
Adut & Udut
Along, Angah, Adut, Udut, Umi
Favourite girls.
Jong Kook & Kwang Soo. Siapa tengok Running Man mesti dia tahu :D
Aku syak ni mesti Adut yang tangkap gambar sebab Udut je yang ada dalam gambar.